Kootenay sponsored athlete Nate Atkins earned a bronze medal finish on January 28, 2018 at the Junior Freeski Open at Whitewater Resort in Nelson, B.C. Canada. Nate took one of nine medals won by Nelson athletes who dominated the challenging freeski competition. It's been a big snow year, and the day of the event was no exception, with a fresh blanket on over 2 meters of legendary Kootenay Pow-pow base.  Nate seemed to love the conditions on the day of the event and navigated the cliffs and jumps of the famed "Blast" black diamond run with confidence. This popular event was visited by skiers from B.C. and Alberta.
Skiers were judged by creativity, line choice, fluidity, style, control and aggressiveness on Whitewater's Blast run, which features cliffs and moguls.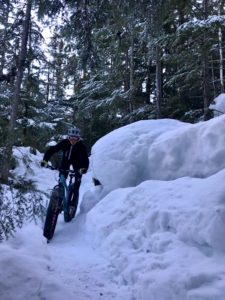 Nate cross-trains hard on his snow bike wearing the classic Kootenay Softshell jacket during the winter to keep his legs in shape. Living in the mountain town of Nelson, B.C. makes it easy for him to access trails right outside his door in the legendary "Mountain Station" trail network in uphill Nelson, B.C.. This up and coming athlete is sure to become a frequent podium finisher in not only the freeskiing arena, but also in the mountain biking world. Ride on Nate!